The Street Hypnosis Experience
Over 115 Days Of Performances In 2013
---
---
Now accepting bookings world wide.
Email me to be notified when my show comes to your town.
---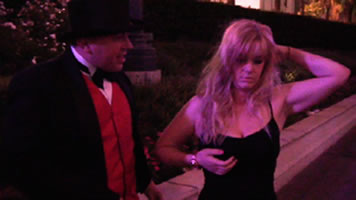 Best of Las Vegas - 2013
---
Street Hypnosis Experience Feature Videos:
---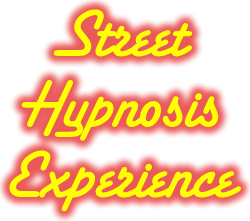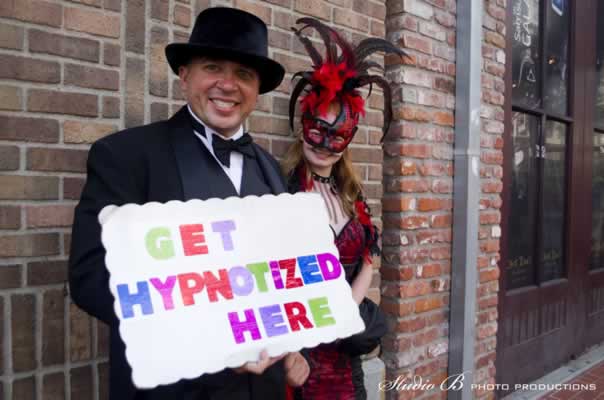 The Street Hypnosis Experience is a traveling show that brings hypnosis out in to the streets.
Hypnotist Aaron Glotfelter, offers the trance experience to people as they go about their daily affairs, or as they go from place to place during a special event.
Since most of the volunteers aren't even expecting to encounter a hypnotist, the experience is an exploration of the unusual and the unexpected!
These performances total over 1,000 hours in the field over the course of the year, from Southern California to New York City, and all over in-between.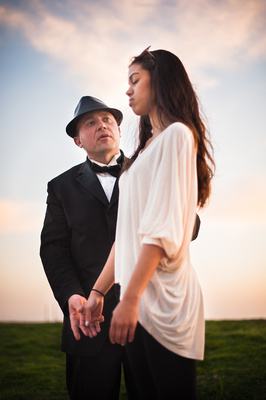 We also take The Street Hypnosis Experience inside.
My lovely assistant and I are looking for opportunities to perform at bars, clubs, coffee shops, conventions, special events, malls, you name it.
The show comes in two formats, Family Friendly - G rated / and Adult Friendly PG-13 to R rated. Different audiences and different environments get different shows, and I'm pretty good at picking the right balance of interesting and appropriate.
If you are interested in booking an appearance, contact aaron@betaprime.org
---
A letter from Aaron Glotfelter, Dec. 7 2013
I'm proud to present the re-release of StreetHypnosisExperience.com. This website is the collection of 7 feature videos that I made over the course of 115 days doing street hypnosis all throughout the United States in 2013.
These features mirror my street work as they feature as much erotic hypnosis as I could get away with doing out in public. A lot of time I had to restrict myself to a family friendly G-rated show, although that's not my primary area of focus.
The technology behind this website and this collection of videos is something that I'm as proud of as my hypnosis work. They are hosted on a server that I built and maintain. I edit and take the video through post production. I render the video in to HTML 5 compatible video. I designed and wrote the website from scratch, using design elements of usefulness and simplicity that reflect my sense of aesthetic. On most platforms you can simply sit back and let the whole collection play through.
These features are just the tip of the iceberg. From over a thousand hours in the field this year, I've collected a terabyte of raw footage that I will be going through in the future.
So, as the year comes to a close, it's time to reflect upon the past year, and plan for the next year.
I hope you enjoy my work.